A presentation at a seminar of researchers in architecture held at the Centre for Information Technology and Architecture (CITA) in Copenhagen, Denmark. Research work on the concept of passively harvesting ambient energy to perform logical operations with novel mechanisms.
' ... study the physical phenomenon of liquid-to-solid phase-change in waxes, take a proprietary thermal actuator and investigate the requisite variety of different waxes given diurnal ambient thermal energy. Then ask how the useful mechanical work generated can be applied ... '
Hosted by Professor Mette Ramsgard Thomsen (CITA), Dr Phil Ayres (CITA), Dr Sean Hanna (UCL) and Alasdair Turner (UCL).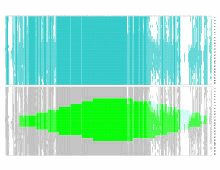 Annual wax melting activity